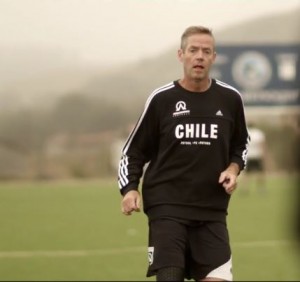 Branding/Marketing/Web Guy – TO/WHO
In addition to these roles for TO/WHO, David also serves as the Ambassadors Football Brand Director and is the Director of Ambassadors Football Chile.
David brings an entire careers worth of experience to this work having awesome storytelling and creation skills from some of the world's best. His past working stints include:
Microsoft / Chief Story Teller – Windows Marketing Communication
Pearson / Publisher of New Riders
David C. Cook Publishing / Denominations Special Designs
As Chief Story Teller for Windows at Microsoft, David's primary responsibility was to bring the Windows consumer story to life and unify the consumer messaging across all Windows platforms. His primary canvas for this storytelling was the Windows web properties at Microsoft.
In his role as an Acquisitions Editor and eventual Publisher of New Riders, David's book publishing career fell in sync with the emergence of the World Wide Web as a consumer entertainment hangout place. He published the first book on how to prepare graphics for the web, web usability, and Flash web design. His time at New Riders also coincided with the explosion in digital photography and Photoshop use and David led New Riders to the forefront of these markets.
David is humbled to have partnered with incredible authors such as:
Lynda Weinman – The leader of the web design movement and owner of Lynda.com
Scott Kelby – Digital Photography expert and Photoshop guru
Jakob Nielsen – recognized as one of the world's leading usability experts
Hillman Curtis – THE Flash Designer
David loves taking all of these things that he has learned through his work and his authors throughout the years and use them now, exclusively, for the Kingdom of God…THAT'S WHO!
Originally from Chardon, Ohio, David racked up four years of playing time on the pitch at Judson University in Elgin, Illinois. At 50+ years old he still laces up the boots and tries to keep up with the young guys mostly on the futsal courts around Santiago.
He is married to his college sweetheart Michelle and they have two college aged children, Kaylyn and Nolan. They have been living and serving the Lord in Santiago, Chile since 2008.
This Chevy commercial was created for the 2014 World Cup featuring David's work in Chile.
DAVID DWYER + CHEVROLET PROFILE from Ambassadors Football Chile on Vimeo.