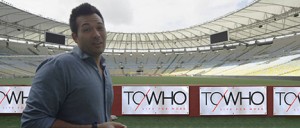 Download TO/WHO
Download the User Guide
In the summer of 2004 in the USL's summer league called the Premier Development League, a VERY LOUD fan would end up providing the inspiration for TO/WHO.
This fan stood out not because of his incessant chant of "TO WHO?" ringing out throughout the stadium whenever the opponent did not play to perfection.
"TO WHO?" after a bad pass.
"TO WHO?" after a shot off the mark.
"TO WHO?" "TO WHO?" "TO WHO?" The entire game and season long.
Never mind that his question wasn't even grammatically correct; it was effective in making an impression because of its volume and frequency of being asked. This fan inspired Aaron Tredway to view his life, before the Lord, in a whole new light.
We invite you to download the TO/WHO message from Vimeo and the User Guide for use it in your church, homegroup, team meeting, or for a special evening with friends. Better yet, share the link through social media so you can share Jesus with all of your friends.
We also invite you to watch the TO/WHO message now, and challenge yourself in the same way that Aaron was.
Behind the Scenes