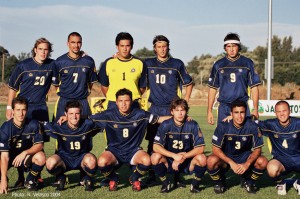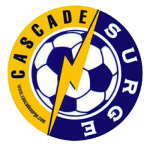 2004 Cascade Surge
In the summer of 2004 Ambassadors Football (then known as Ambassadors In Sport) helped to operate the Cascade Surge semi-professional soccer team in Salem, Oregon. Aaron Tredway led that project on behalf of Ambassadors and recruited the team of predominantly Christian-college based players. The objective of the team was to compete in the USL summer league called the Premier Development League and provide players with a summer ministry soccer experience.
Throughout the summer the team competed against many teams from Oregon, Washington, Canada, and California. One team and a particular fan from that time stood out above all others.
They stood out not because of their play, but because of this one fan whose incessant chant of "TO WHO?" rang out throughout the game whenever the Surge did not play to perfection.
"TO WHO?" after a bad pass.
"TO WHO?" after a shot off the mark.
Never mind that his question wasn't even grammatically correct; it was effective in making an impression because of its volume and frequency of being asked.
Matt Clark was a player for the Surge at that time and formed a close friendship with Aaron through their shared experiences that summer. They often joked and referred to "that fan".
They also spent a considerable amount of time talking about playing for the glory of God instead of man. That led to dreams forming to share that same passion of playing for God to future generations. Six years later the two reconnected to formulate the foundation of this work.
Aaron wrote the book, then shared the message throughout South Africa during the 2010 World Cup and that was the beginning of TO/WHO.
It's not grammatically correct, but it demands an answer nonetheless.
TO/WHO are you living your life?
Em Portuguese
No verão de 2004 Ambassadors Football (então conhecido como Ambassadors in Sport) ajudou a criar o time de futebol semi profissional Cascade Surge em Salem, Oregon. Aaron Tredway levou esse projeto em nome do Ambassadors e recrutou a equipe de jogadores predominantemente vindos de Universidades Cristãs. O objetivo da equipe era para competir na liga de verão USL chamado Development League Premier e proporcionar aos jogadores uma experiência de ministério de futebol nas férias de verão.
Durante todo o verão, a equipe competiu contra muitas equipes de Oregon, Washington, Canadá, e Califórnia. Um time, e em particular, um torcedor especial deste time, naquele momento se destacou acima de todos os outros.
Eles se destacaram não por causa de seu jogo, mas por causa de um torcedor presente cujo incessante grito de " pra quem?" Ecoou por todo o jogo, sempre que o Cascade Surge não jogava com perfeição.
"Pra quem?" Após um passe errado.
"Pra quem?"Depois de um chute para fora.
Não importava que a sua questão não era gramaticalmente correta; mas foi eficaz em causar uma grande impacto por causa de seu alto volume e a frequência que gritava.
Matt Clark era um jogador do Cascade Surge naquela época e criou uma estreita amizade com Aaron através de suas experiências compartilhadas naquele verão. Eles muitas vezes brincaram e se referiram a " esse torcedor".
Eles também gastaram uma quantidade considerável de tempo falando sobre como jogar para a glória de Deus, em vez do homem. Isso gerou sonhos, levando-os a partilhar a mesma paixão de jogar para Deus para motivar gerações futuras. Seis anos mais tarde os dois se reencontraram para formular a base deste trabalho.
Aaron escreveu o livro, então, compartilhou a mensagem por toda a África do Sul durante a Copa do Mundo de 2010 e que foi o início do ministério TO/WHO.
A pergunta não é gramaticalmente correta, no entanto, exige uma resposta. Pra
Quem você vive a sua vida?